Economic Outlook Seminar 2019
This half-day seminar highlights the latest economic trends for local economies and the state of Montana.
Why Attend EOS 2019?
BBER economists present national, state and local economic forecasts for each seminar city and industry experts will give their outlook for Montana's important sectors, including tourism, health care, real estate and housing, agriculture, manufacturing, energy and forest products.
Where Can I Attend?
EOS 2019 will travel to ten cities across the state and provide a live webcast for other regions. This year we will visit Helena, Great Falls, Missoula, Billings, Bozeman, Butte, Kalispell, Sidney, Miles City and Big Sky, Montana.
Get registered for the 2019 EOS today!
Seminar Schedule
EOS 2019 schedule of cities, dates and venues.
January 29, 2019
Great Northern Hotel
January 30, 2019
Hilton Garden Inn
February 1, 2019
Hilton Garden Inn
February 5, 2019
Doubletree Hotel
February 6, 2019
The Commons
February 7, 2019
NorthWestern Energy General Office
February 12, 2019
Hilton Garden Inn
March 12, 2019
USDA Agricultural Research Services
March 13, 2019
Sleep Inn & Suites
March 14, 2019
Warren Miller Performing Arts Center
The Speakers
Our lineup of speakers include industry and economic experts focused on Montana.
Patrick Barkey
Director of the Bureau of Business and Economic Research
Paul Polzin
Director emeritus of the Bureau of Business and Economic Research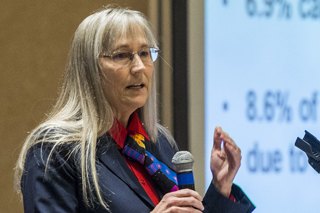 Norma Nickerson
Director of the Institute for Tourism and Recreation Research
Brandon Bridge
Economist at the Bureau of Business and Economic Research
Subscribe to get updates on EOS 2019.
News
Get the latest information on EOS 2019, plus articles from our speakers.
Buying a house in Montana can be hard. A recent Gallup study found 45 percent of Montanans were dissatisfied with the availability of good affordable housing. This tied Montana with Maryland and Oregon for eighth worst in the country.
For the 43rd year, the Bureau of Business and Economic Research traveled to nine cities across Montana to deliver its annual assessment of economic activity in the state. The 2018 Economic Outlook Seminar covered a wide range of topics from higher education to housing and tourism.