Economic Outlook Seminar 2020
This half-day seminar highlights the latest economic trends for local economies and the state of Montana.
Finding Good Workers
For many Montana employers, the days of receiving stacks of applications is a distant memory – and it's not necessarily due to a strong economy and low unemployment. In today's knowledge based, social media connected and information rich economy, the rules of engagement between candidates and companies have changed. The economic success of local communities and the entire state depends on making the best match between workers and workplaces. Montana has some advantages in attracting talent, but there are plenty of things we could do better.
Join us for the 2020 Economic Outlook Seminar as we examine the challenge of finding good workers – for every kind of business and organization.
Why Attend EOS 2020?
BBER economists present national, state and local economic forecasts for each seminar city and industry experts will give their outlook for Montana's important sectors, including tourism, health care, real estate and housing, agriculture, manufacturing, energy and forest products.
Seminar Schedule
EOS 2020 schedule of cities, dates and venues.
January 28, 2020
Great Northern Hotel
January 29, 2020
Hilton Garden Inn
January 31, 2020
Hilton Garden Inn
February 4, 2020
Northern Hotel
February 5, 2020
The Commons / Live Webcast
February 6, 2020
NorthWestern Energy General Office
February 11, 2020
Hilton Garden Inn
The Speakers
Our lineup of speakers include industry and economic experts focused on Montana.
Patrick Barkey
Director of the Bureau of Business and Economic Research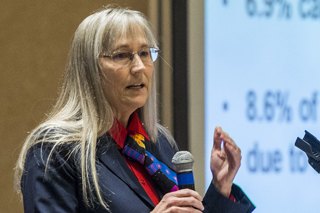 Norma Nickerson
Director of the Institute for Tourism and Recreation Research
Brandon Bridge
Economist at the Bureau of Business and Economic Research
Kate Fuller
Kate Fuller is a professor at Montana State University.
News
Get the latest information on EOS 2020, plus articles from our speakers.
The Bureau of Business and Economic Research at the University of Montana will begin its 45th annual Economic Outlook Seminar in Helena on Jan. 28th.
Attend almost any gathering of business people and the topic is sure to come up – finding good workers. After more than a decade of economic growth, labor markets across the country and certainly across Montana are tight.